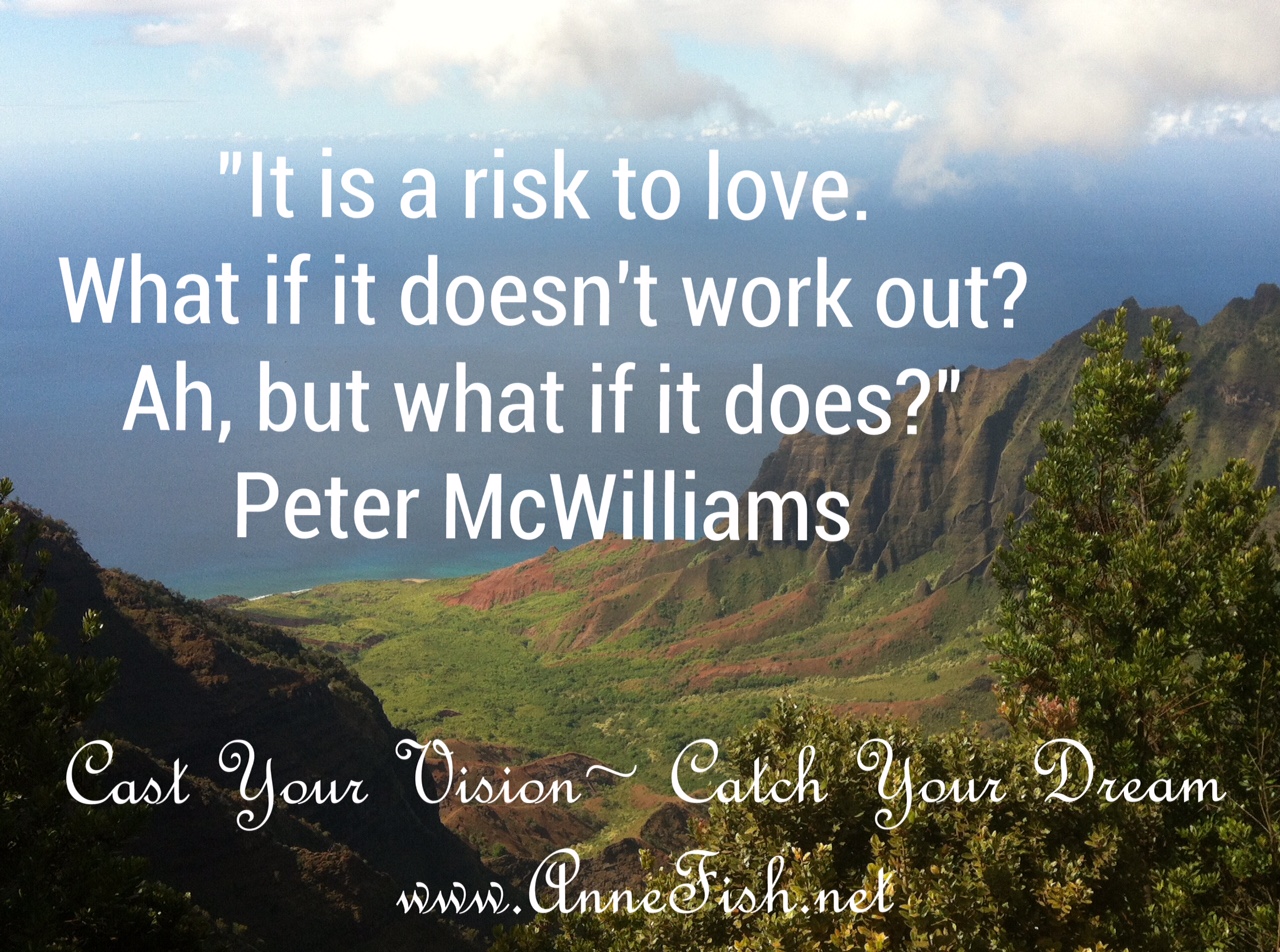 It is a risk to love…
What if it doesn't work out?
Ah, but what if it does.
Peter McWilliams
The day of love… February 14th. Will you consider taking a risk to reap great rewards?
What is the best-case scenario if it works out for you to risk to love? Can you imagine it?
It seems that we are so quick to opt for the worst-case scenario of things not working out in love. We forget the part of the quote that says, "Ah, but what if it DOES (work out)?"
Why do we focus on the negative side of risking to love?
As with many things in life, it can be easy to focus on the pain, the feeling of loss, the fear of being hurt. Then what we do with those feelings is try to protect our hearts from feeling them again. What happens? We distance ourselves from others who might love us. Or decide that it is too scary to dream. We fear the unknown and stay far away from it so that we won't have to change or grow.
The upside to taking a risk to love someone…
What would it take to help you focus on the feeling of victory, success, or of pure joy?
We were all put on this earth to feel peace, love and joy. If you have ever been in love or seen someone who is, you understand what I am saying. It is that feeling of reckless abandon where nothing else seems to matter in your world. What matters is the way you are feeling, and it is intense!
Another way to look at this quote is to switch out the word "love" with any verb you choose.
It is a risk to dream.
It is a risk to try something new.
It is a risk to expose an insecurity.
The comforting thing to remember is that there are only two potential outcomes of taking any kind of risk. Risky or not, you have a 50/50 chance of having a good versus a bad outcome.
What could happen if you take any kind of risk?  
It doesn't work out.
It does… and WOW, does it ever!
What it your dream works out and is better than you imagined? What if you stretch yourself and succeed?!
We think of risk as being the potential for loss, injury, peril. Yet if I had my way, there would be a huge paradigm shift in the world. What if we were to view risk differently?
Risk can be a great thing! Remember that on the other end of the RISK continuum is REWARD.
AH, but what if your risk to love, risk to dream or risk to try something new does work out?!
Just for today, I challenge you to think about the possibilities… and the rewards… because you deserve the best!
Have a wonderful day!
~Anne
"Our greatest fear is not that we are inadequate. Our greatest fear is that we are powerful beyond measure."
~ Marianne Williamson