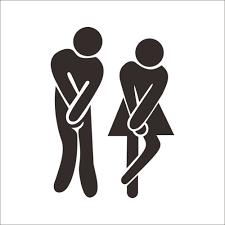 My husband and I just returned from a fabulous trip to New York. There is nothing like getting into the Christmas spirit by spending a long weekend in the "city that never sleeps" – and one that apparently has holiday potty policies.
While we were there,
we had some pretty AMAZING customer service experiences.
Del Frisco Steak House – special shout-out to one of the managers, Shawn for his special attention.
United Airlines even did a superb job getting us there and back with wonderful customer service from all departments.
Allow me to tell you about the ATROCIOUS customer experience a group of us had at Barnes and Noble.
The bathroom there had an attendant.
Which is fine.
I understand throngs of people coming through the store this time of year and you can't just let everyone take advantage of the facilities.
But what the attendant did was a BIG no-no in my book, and apparently in a lot of others' too.
She wouldn't let the women go to the bathroom without first showing a receipt.  As badly as we may have had to use the bathroom, we were required to go wait in line for a book or a coffee first.
However, she allowed the men to walk right in to their bathroom.  No receipt.
Oh NO, she didn't?
Oh YES, she did!
It was not pretty.
I wanted to take as little time as possible in line and just buy anything small, considering my situation.  I hurried over to the Starbucks line.  It was taking even more time for this potty break than I really wanted it to…
The longer I stood in line to buy my minuscule $4 bottle of San Pellegrino, the more frustrated I became with the situation.
I really had to "go" and there was no getting around this rule.
Several other agitated women stood in the Starbucks line with me.  Their husbands had the same experience as mine.
Receipt and bottle of water (just what I needed, more liquids!) in hand, off I hustled towards the attendant.
My receipt was promptly marked, but then I realized that I would have to wait again, now in the line for the ladies' room.  It was now 10-15 women deep.
What did I do?
I marched right over to the men's line.  I couldn't wait anymore.
That's right.  And I asked the gentlemen who were at the back of the line to let me know when no more men were inside.  They laughed, but they seemed to understand.
As soon as she heard my voice, guess who slinked around the corner to confront me?
My new best friend, the attendant.
She barked, "You cannot go into the men's bathroom".
"Why not?", I replied.
"It's our holiday potty policy." (not exactly in those words)
The next thing you know I was speaking to Mr. Manager.  The attendant wasn't even sticking up for her fellow women.
(By this time, the whites of my eyes were probably yellow, and a few of the other gals from the ladies' line had come to wait behind me in solidarity).
Mr. Manager showed up and I don't think he really knew how to handle the situation, but the outcome was that I ended up using the only stall in the men's restroom, with my receipt to prove it!  I washed my hands and walked out past the attendant.
The other women who had also stepped into the men's line paraded in until a line of men formed, holding receipts in hand, waiting for their own restroom.
I guess the manager got the message.
As I was leaving the store, I saw the other assistant manager.  She had been aware of the situation upstairs, but contended that the attendant was not enforcing the "holiday potty policy" the way it was supposed to have been enforced.
Everyone was supposed to show a receipt.  Period.
We raised a bit of a ruckus.  The bathroom attendant was checking everyone's receipts when we left though!
The sad thing?
The attendant didn't get it.
She didn't consider the ramifications of her actions on the big picture.  I bought a $4 bottle of sparkling water and decided not to shop there for anything else afterwards.
I had a less than favorable feeling about the store when I left.  My husband shopped for a book, but obviously AFTER he went to the restroom.
The moral of this story?
In the customer service world there is a well-known statistic:
News of a bad customer experience typically reaches twice as many ears as praise for a good one.
If you own a business or work for one, you might be interested in some of the statistics from the Help Scout blog post with 75 customer service facts, quotes and statistics.
It might just change the way you treat your customers.