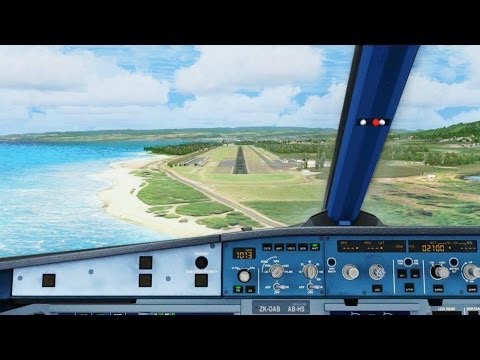 To deviate or not to deviate, that is the question…
If you've ever set a goal and had to re-evaluate mid-stream, you may have some experience with this topic.  If you haven't, but want to learn what to do if you are faced with this predicament, read on…
Why would you deviate from your plan?   Should you?
If you look at the image attached to this blog post, you might understand what I am saying as it relates to a pilot who is about to land on this beautiful, tropical island.  If he deviates too much off the path at this point, it could have a really bad outcome.  Sometimes deviating is not advised.  But early on in the flight plan, if the pilot had to fly around a thundercloud, he or she would have enough time to re-assess and get back on course in time for landing.
I write about taking risks and getting out of your comfort zone.  And yet, sometimes I need encouragement as much as anyone to do it!
How do I find that encouragement?
I talk to others who are going after big dreams and/or re-thinking their plans.
I read articles and books, listen to podcasts and watch videos about others who are reaching outside of their comfort zones.
If you want to try something new, you might want to read this article I found on Inc.com (click here)
about why the most successful people fail most often.  They probably TRY most often too.
There is POWER in adjusting, in changing, in re-evaluating.
I told a group I was speaking to recently that I am a believer in being a life-long learner.  What I probably should have told them is how painful that can be.  Change – growth – it hurts!  It is easier to stay put and not have to feel those growing pains.
What do you gain by staying put or not adjusting?  Comfort.  Ease.  Not that I think it's fun to have life be "difficult", but there is something about things that are hard, that take a lot of work.  There is also something about having to make adjustments, change your goals.  The prize feels so much more valuable when you've had to fight for it.  Just ask any of the Olympians who had to wait several Olympic games – YEARS – to finally win a medal, or even make it on the team!  I can envision their goals written on a page – "Gold medal – Vancouver 2010, crossed out and changed to Sochi 2014, crossed out to read PyeongChang 2018".  It happens.
Sometimes we have to change course.  I like to say, "DV8/Deviate – change course it can change your life."
What if you knew that the NEXT change of course, the NEXT business venture would be the one that would change the direction of your life.  Would you keep striving towards it?