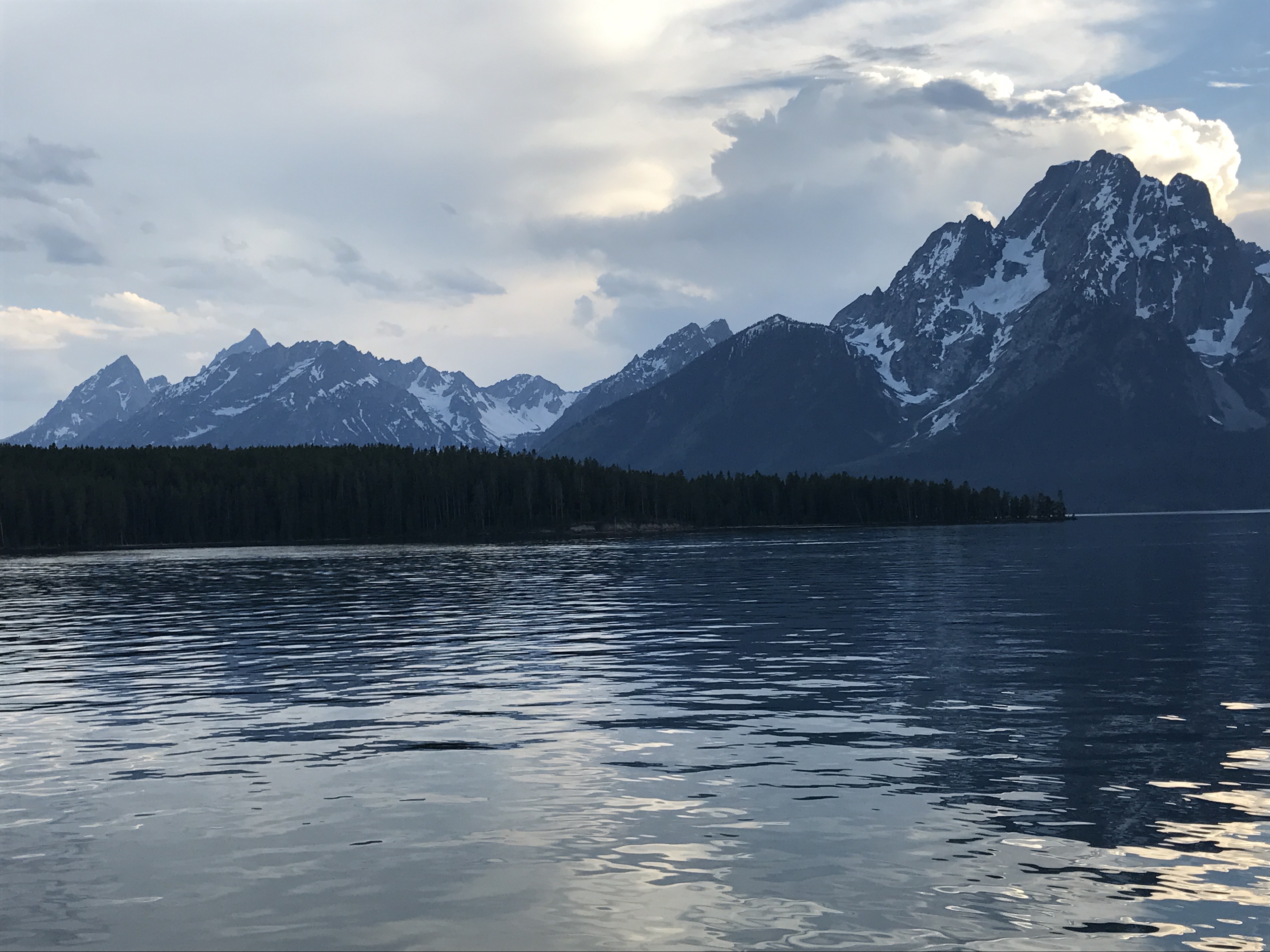 Time?  I don't have extra time.  I'm so busy…
…and yet, when I consider what's really important, I settle on the small things in life.
#moments
Last weekend my husband and I spent a relaxing Labor Day on Jackson Lake in Grand Teton National Park.
The lake arguably has one of the most beautiful backdrops in the Lower 48 -the Teton range.
The setting:
Sunday morning, I decided to go out for a leisurely kayaking adventure from our "flotilla" of boats to explore the shoreline about 100 yards away.   About 20 yards from shore I spotted him.
There, perched on a dead tree was a huge bald eagle, looking down at the water – and what felt like directly at me.   I put my paddle down and silently wished I had brought my iPhone on this little adventure.
I watched as jetliners screamed overhead from north to south.  I also remembered my flight attendant days when I would ask the Captain to alert me if we would pass over Jackson on our flight path.  I would longingly gaze towards the earth from 35,000 feet – wishing I were at home, or on Jackson Lake taking in the beauty.  Here I was.  In the moment.  On the lake.
The thrill!
Soon the screeching of another bird, an osprey, awakened me from my trance.  I was back in the moment on that shoreline.  Now only 10 yards away, the enormous eagle lifted up and soon threw his whole body weight off that dead tree.  He was being chased by the osprey!  The two birds swooped down towards the water (and ME!), made a sharp turn south and flew towards another stand of trees.
The feelings:
I sat amazed, humbled and grateful.  So grateful that I hadn't been messing with my iPhone settings, grateful that I hadn't tried to video that instant, but rather just took it in with my own eyes. I was able to keep my eye on the two and followed the eagle to another perch.
Within a few short minutes, I heard a screech again, and here came the osprey, this time not following the illusive eagle, but rather diving into the water for lunch.  He missed, but the thrill for me was enormous.  I could almost have felt the splash of the water on my legs, outstretched in front of me on top of my lake kayak.
The goal:
Why do I write about experiences like this?  To encourage others to take time to smell the roses.  To look up.  To be more situationally aware, and to be delighted by not only the people around you, but the places and things.  And then try sharing them with others.  I find that it makes me so much happier, more grateful and more delighted by the littlest things.
#taketime
#lookupandsee